Festive season special offer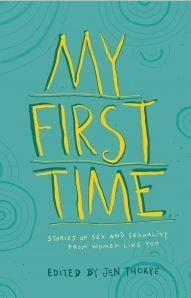 We have several "fabulous, sexy" new titles that are either about to come out or are already just out. Until next Friday you can order these titles direct from us and save. You will be supporting a local business that has just turned FIVE years old. (We brought Megan Hall's Fourth Child in late October 2007.) Modjaji Books titles make cool gifts for family and friends – and especially for you!
For young adults and in fact important for all of us to read and think about – My First Time: stories of sex and sexuality by women like you edited and compiled by Jen Thorpe (R140)
For all readers:
Love Interrupted (laugh out loud, contemporary short stories) by Reneilwe Malatji (R140)
In the Spirit of McPhineas Lata and other stories set in Botswana and by award-winning writer, Lauri Kubuitsile (R140)
Every home should have one
Jabulani means Rejoice: A Dictionary of South African Names by Phumzile Simelane Kalumba A special, beautifully designed reference book – and a great conversation starter (R180)
For those who love poetry – don't miss
Haidee Kruger's second collection of poems The Reckless Sleeper (R120)
If you take all 5 titles you can get them for R650 including postage (an extra saving of R70)
All other titles are discounted by up to 20% – just ask if there are other titles you would like to order
This offer is only valid till 16th November 2012. Email: Colleen Higgs at cdhiggs at gmail.com with your order and your postal address and I will send you the banking details for EFT.
Book details