My First Time reviewed by Agenda
Unathi Nopece reviews My First Time: Stories of sex and sexuality from women like you in the July 2013 edition of Agenda. Jen Thorpe compiled and edited the collection from the blog she set up. She selected stories from the blog and commissioned a few pieces too and then edited them and worked with Nella Freund to make the collection cohere.
Overall, the book is a provocative and engaging women's read and will undoubtedly make the reader recall his or her own first time experiences.
The book provides an insightful and qualitative perspective, adding to the existing research on women's sexuality. Furthermore, it aims to remove the secrecy, apparent self-loathing and shame that surrounds women and their sexuality, as reflected in stories such as 'My first time getting rid of the shame of a woman's sexuality' by Karabo Kgoleng (p 80).
To read the full review click here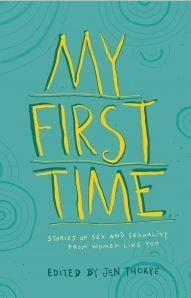 Book details